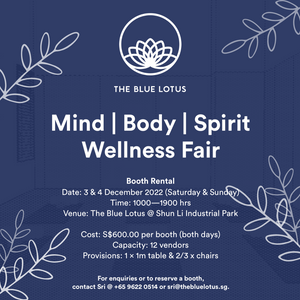 Calling for wellness professionals and merchandise retailers: The Blue Lotus' Mind | Body | Spirit Fair returns this December 2022 at our new 2,723 sq. ft. space. at Shun Li Industrial Park. Our new studio space is a contemporary wellness sanctuary that will host a collective of energy healers and holistic wellness professionals, working together with a newly-curated line of wellness products to serve and support your mind, body and spirit.


This time round with a larger space capacity, we open our invite to all likeminded vendors to join us in our upcoming wellness and networking fair. As we turn our space into a family-friendly fair come 3 and 4 December 2022, a total of 12 booth spaces are up for rent on a first-come, first-served basis.
Event Details
Date: 3 December
 2022 (Saturday) & 4 December 2022 (Sunday)
Rental Details
Cost: S$600.00 per booth* (two days/entire weekend)
Capacity: 13 vendors
*Please make all booth rental payments via PayNow to The Blue Lotus (UEN 201504828R). You may proceed to check out and select the PayNow option at the payment page. Please register your interest and business details via https://forms.gle/KxRrXF742oCN7dHf7 thereafter.
---
Mind | Body | Spirit Wellness Fair
Eco-conscious & makers' market, spirituality & holistic health expo, and networking meet

At The Blue Lotus, we seek to create a space where Spirit is validated. You are Body and Spirit; and as Spirit, you are a creative ever-evolving vibration that is uniquely you.
The Blue Lotus'
Mind | Body | Spirit Fair
is a space and place to gain insight into your inner self and to communicate and explore with others the world of Spirit.
Holistic wellness transgresses the realm of physical health and encompasses the physical, financial, emotional, and spiritual aspects of life. We endeavour to encapsulate these in an experience that will help you feel informed and supported so that you can approach wellness from a place of empowerment.
Spanning over
2 days
with
13 unique booths
, our weekend fair will showcase products, services, and resources to help you to grow towards wholeness and self-understanding. The event program will include a line-up of the following:
a services section that will host vendors offering wellness, healing and reading services, and
a merchandise/retail section that will host vendors offering wellness-related products.
Vendors are encouraged to price their products and services as they deem fit, with intention t
o make their products and services affordable to the masses.
 Service vendors are additionally advised to consider taking appointments and coordinate their own client bookings for their services offered over the weekend.
If you would like to rent a booth at our event, please register your interest and business details specifying your service and/or retail offering in via the Google form
here
.
We host this event in hopes that it would be a great opportunity for the community to gain exposure and share their story. Come along and explore alternative and holistic ways to wellness of the mind, body, and spirit with us—we look forward to
sharing our new space with you.

If you would like to learn more about our space, collective or the event, contact Sri Mulyadi at +65 9622 0514 or sri@thebluelotus.sg.